Disclaimer: This post contains affiliate links which may benefit us in some small insignificant way if you use them.
Maybe it's Nostalgia, but Life on the Road in 2023 Doesn't Sound So Bad…
When I think back to my younger, dumber landman days, the most obvious aspect of life that has changed since then is that I am no longer living life on the road. "The Roadtrip to Nowhere" is a partially romanticized musing that I often refer to because it was so formative in my life and career. Packing up on a Sunday evening or early Monday morning to head out on the road for the week was always a bittersweet moment. Leaving home and its comfort to travel to some small town hours away was, quite frankly, a pain in the ass a lot of the time. If you want to get a couple of laughs about life on the road, make sure to check out The Poker Game series.
The actual journey, however, was something different…there was an excitement in it, especially when the destination was someplace new. I spent many years on that Roadtrip to Nowhere and I during that time I went through tons of gear. A lot of it was crap that either broke or was discarded along the way, but some of the things I traveled with are still part of my kit. This is a post with a few things that I'd have in my bag or truck if I was still living life on the road in 2023.
The Gear
Essential Landman/Business Gear
Laptop
I've been a Mac guy since college, back when the "PC Guy vs Mac Guy" was still a thing. That may have put me in the first generation of landmen using macs, because I remember all kinds of grief that I got from crew chiefs and fellow landmen along the way. "Oh, it won't work on Gates' computer, he's a Mac guy!" Most people didn't seem to understand that I could run Windows natively in Boot Camp just like any shitty PC laptop, but I have always preferred the interface and build quality of Mac computers over their cheaper, more bloatware ridden PC counterparts. There was a good 5 year span where I rocked a Macbook Air because holy shit that thing was light, and it did everything I needed just like a Macbook Pro at half the weight and half the price. Those days ended when the Retina Macbook Pros came out…but I think I'd be looking at a new Macbook Air if I was upgrading these days. Apple has restored the speed, compact size, and overall portability that made those machines so fantastic. My pick would be the M2 Macbook Air with 16gb ram and 1tb SSD, but I can also safely say that the M1 Macbook Air is still a fantastic deal if you don't need the extra port and new design (and are on a budget). I wouldn't go below 16gb ram and while I would feel a bit uncomfortable with any drive size smaller than 1tb these days, you can make do if you're only using it for work.
M2 Macbook Air 16gb 1tb SSD https://amzn.to/3mJcdOc
M1 Macbook Air 16gb 512gb SSD https://amzn.to/3KV4rsz
---
Work Bag
There are so many solid options for work bags these days, it's hard to go wrong with any of them! I have always preferred the briefcase style bag, there is something classic about the design that makes me feel like they look more professional than a messenger or backpage style bag. Two of my favorite briefcase style bags that I've ever owned are made by Hartmann…who appears to have stopped making any type of laptop/briefcase style bags for whatever reason. Checking Amazon I think I'd go with the Samsonite Classic Leather Toploader Briefcase or possibly this Kenneth Cole Reaction one.
Samsonite Classic Leather Toploader Briefcase https://amzn.to/3mRsTD3
Kenneth Cole Reaction Manhatten Briefcase https://amzn.to/3UTplg1
---
Chargers, Cables, etc
I remember back when the BatteryBox first came out and it was a total gamechanger…being able to keep my Macbook running while I was set up at one of the ever present standing desks in a county clerk's office was truly remarkable. Everyone else would be begging for a wall outlet to plug their laptop in for a few hours, but I could keep on cranking on those runsheets. It was awkwardly shaped, and heavy as a brick…but function over form back in those days, right?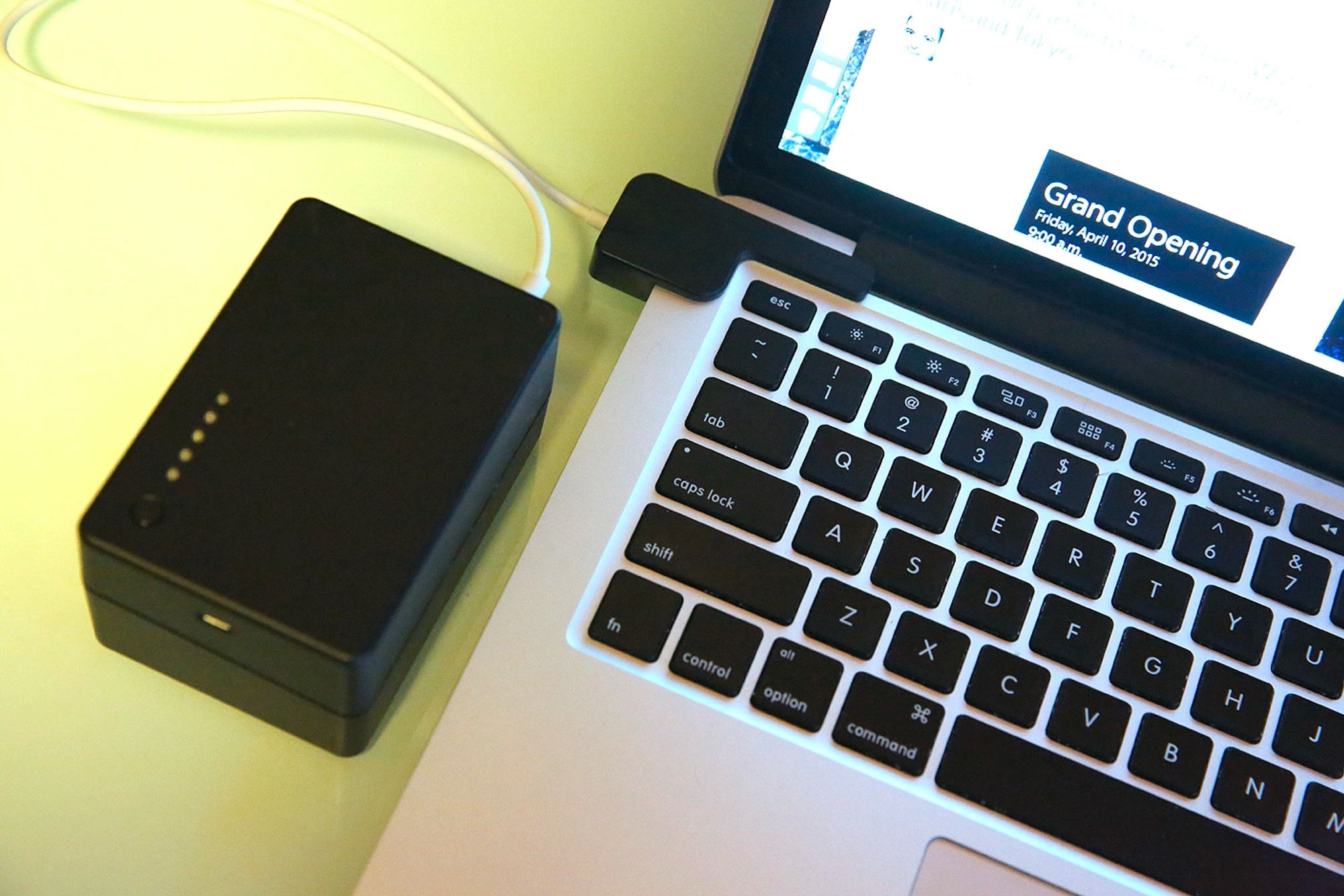 Today, we are blessed to have more abundant choices for batteries and more standardized charging ports for laptops, tablets, and other gadgets. A few years ago I bought this big ass Anker battery to keep in my laptop bag and it's never let me down. Sure there are higher capacity, cooler looking, faster charging, or smaller sized battery banks available, but this is my go to (added bonus it comes with a charging cable AND a wall charger…which are both luxuries these days, usually sold separately).
Anker Powercore 26800 mAh https://amzn.to/41pPSEo
Wall chargers are still a necessity and having one that can power both USB C and the older USB A devices is crucial. I can't tell you how many times I have forgotten one of these chargers and ended up with some dumb old USB A cable but no chargers that I can plug it into! Cover your bases, and as an added bonus, you can fast charge just about any smartphone with one of these bad boys from Anker. If you need a little more juice for something like a laptop, or a high end tablet, you can get the bigger brother (120w vs 64w) here.
Anker 735 Charger (Nano II 64w) https://amzn.to/3H15QfV
Anker 737 120w Charger https://amzn.to/3AgLKul
Personally I think that 6ft is a bit long to keep in your laptop bag, but it comes in handy when you're plugging things in back at the hotel (or in your truck). Once again I am going to give the nod to Anker, and no, they did not sponsor or pay me in any way…I just think they make good stuff for an affordable price, and I've never had one of their cables fry any of my gear. You'll most likely need at least a USB C cable or two, and if you use an iPhone, we're still going to need a USB C to Lightning cable until later this year…also, I HIGHLY suggest that you get different colors based on which type of charger they are. It makes things so much easier when you're just trying to get something plugged in quickly.
Anker 6ft 100w Charging Cable (2 Pack) https://amzn.to/3LfnrDo
Anker USB C to Lightning Charger https://amzn.to/40qg4NB
---
The Landman Kit
This is, of course, the most important part of this list. The Landman Kit. Essentials that every landman needs to have. We're gonna keep things simple here, because we learned how to landman the old school way. Yellow legal pads and a pen can get any job done. In terms of pens, I don't think you can do any better than the Pilot Dr. Grip. They are comfortable to hold and write perfectly, I've had at least one of these in my bag for the past couple of years. Legal pads are at your discretion, but be aware that a lot of "legal pads" are not legal sized, which is kind of fucked up right? Landmanning requires note taking, so we've also included a pocket notebook that we really like.
Pilot Dr. Grip Pen https://amzn.to/3AugRmj
Yellow Legal Pads https://amzn.to/445oP2C
Small Notebook https://amzn.to/3oMKEnt
---
Everyday Carry
We're not religious about our everyday carry gear like some people, but we do carry a knife almost everyday. Opening packages, slicing up junk mail, cleaning your fingernails, the utility and convenience of having a knife on you all the time is limitless. Since I'm not trying to be Crocodile Dundee, I prefer my knife to be small enough. to fit in any pocket, and then once you're going compact, why not throw in a pen style flashlight too? Might as well! I'd also be remiss to not include the Amazon Kindle Paperwhite because it's really just that fucking good. You can check out my review on it here.
CRKT Squid Knife https://amzn.to/3AubymJ
Streamlight MacroStream flashlight https://amzn.to/3LuufwR
Kindle Paperwhite Signature Edition https://amzn.to/3LbeJVg